Things Are Getting Bright For The Bucs
January 9th, 2011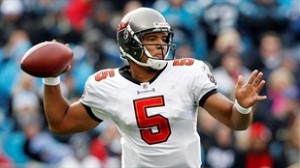 Anyone remember when Chucky, mired in a losing season, proclaimed the future for the Bucs was so bright we would all need shades? Joe sure does and not only was it a horrible cliche from a rotten 1980s song, it was downright laughable.
Then again, maybe Chucky was clairvoyant and was looking at the Bucs' future post-Chucky.
Adam Schefter too believes the Bucs will be the talk of the NFL in short order. In typing out 10 coherent thoughts, Schefter brought up the Bucs.
Bright future: Perhaps no team is better positioned for the future than Tampa Bay. The Buccaneers boast the league's best rookie wide receiver, the league's best rookie running back and one of the game's best young quarterbacks. Mike Williams had 11 touchdown receptions, more than any rookie receiver except Randy Moss, who had a league-record 17 in 1998. Running back LeGarrette Blount ran for 1,007 yards despite being deactivated the first two games of the season and three of the first five. Quarterback Josh Freeman beat playoff teams New Orleans and Seattle in the season's final two weeks while completing 42 of 52 passes for 492 yards, seven touchdowns, no interceptions and a passer rating of 145.7. Here, though, might be the most jaw-dropping numbers: Williams is 23 years old, Blount is 24 and Freeman doesn't turn 23 until next week. In one year, Tampa Bay has built a team that can last for a decade.
Wow. A decade. Just like rock star general manager Mark Dominik envisioned.
Joe just feels tingly about this. Or perhaps it is the Vicodin from last night wearing off?