Rooting Guide To Playoff Games
January 15th, 2011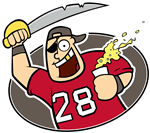 There's a full weekend slate of glorious NFL playoff games and, with a Bucs twist, Joe's here to tell you who to cheer for, if you haven't already made up your mind.
Ravens at Steelers – Raheem Morris was clear in interviews that he's pulling for his buddy Mike Tomlin. But it's a tougher call for Joe, since both teams beat the Bucs this year and Joe wouldn't mind seeing either one lose. Horny sleaze Ben Roethlisberger is the difference. Go Ravens!
Green Bay at Atlanta – This one's much easier. Joe hates all things Dixie Chicks. Nothing would be better than Matt Ryan with a stupid ass look of defeat on his face and the NFL subsequently ending the Falcons-on-the-school-bus commercial. C'mon, Goodell, you've got stables of naughty cheerleaders and you're putting Arthur Blank's mug on the screen? Go Packers!
Jets at Patriots – Another tough game for Joe. The Jets turning out to be clear-cut morons for drafting Mark Sanchez ahead of Josh Freeman is a very attractive motivator to pull for a New England blowout. But seeing some people's coach of the year, Bill Belicheat, losing and pouting about it would be too rich to pass up. Go J-E-T-S.
Seattle at Chicago – If Seattle (8-9) wins the Super Bowl, then the Bucs will have beaten two winning teams this past season. That would be special. But Joe wouldn't mind seeing the Bears, who invested in the evil, sinister ranks of free agency, make some noise in the playoffs. Maybe that would help open the Bucs' minds a little more to buying a couple of studs in the offseason. Go Seahawks!