Was Josh Freeman's Season A Fluke?
January 16th, 2011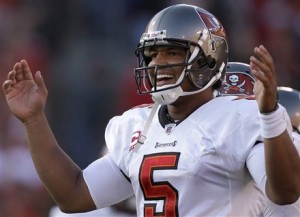 Talk to any of the Bucs players, especially the rookies on the offensive side of the ball, and they will be quick to tell you who the leader of the team is.
"This is Josh's team," they will say.
Part of that is the fine season Freeman had. His only six interceptions proved he's a stud in the making.
Or does it?
Woody Cummings of the Tampa Tribune has an interesting article about what is not known about the Bucs. In it, he wonders aloud if Freeman's solid season is a harbinger of years to come or a flash in the pan.
We don't know just how good a quarterback Josh Freeman can be. He had an exceptional season, but needs to put a string of similar years together to be considered one of the best in the league
To be fair, it's an interesting question. There is no question that there were games where Freeman, like a crafty pitcher in baseball, didn't have his location. Not many, mind you, but a few. Hey, even the best of baseball pitchers will have off games where they struggle with location.
As good of a season Freeman had, there were games where he wasn't always on target. Baltimore was one of those games which spring to mind for Joe.
For Freeman to be considered in the class of, say, Aaron Rodgers or Tom Brady, he's got to be consistent. Freeman was, mostly, all season. Rodgers and Brady rarely have those types of games.
Off-target games aren't quite rare enough for Freeman to be among the elite. Yet.