Travel With Paradise Worldwide Transportation
January 20th, 2011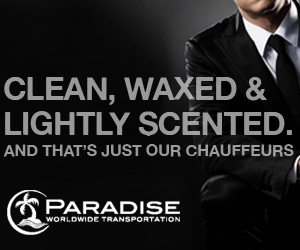 Joe reminds all his readers to use Paradise Worldwide Transportation for their needs locally and around the country. 
Classy and affordable, for the airport or a night out, Paradise is going to be on-time and provide a professional chauffeur for the ultimate in service and style.
Locally owned, Paradise Worldwide Transportation is the official transportation provider for the Tampa Bay Lightning and all St. Pete Times Forum events. Plus they're great guys and big Bucs fans, and deserve a big round of applause for making this season's Blackout Tour fun and affordable.
Do the smart thing, and use Paradise Worldwide Tranportation.