Ronde Barber Intends To Return To Bucs
January 19th, 2011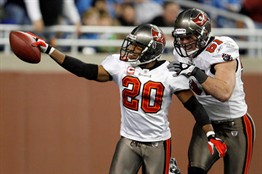 Will he or won't he? The question of whether Ronde Barber will return to the Bucs in 2011 really hasn't been answered.
Earlier this week, Raheem Morris boasted Barber would indeed return.
Then, texting with Woody Cummings of the Tampa Tribune, Barber didn't say "no," but hinted announcing a return would be premature.
Now, talking to Rick Stroud of the St. Petersburg Times, Barber said the final decision on whether he returns doesn't come from Raheem and it doesn't come from himself.
Rather, the man who will make the ultimate call is Bucs rock star general manager Mark Dominik.
"I just haven't spoken to Mark (Dominik) about next year yet. I'm certain I will soon, though. Rah's intentions are very clear though and I would be lying if I thought otherwise at this point. But nothing is done."
In many recent interviews, Dominik has gone on record as saying his greatest tool in evaluating players is "the eye in the sky," otherwise known as video tape. Judging by that, no question Barber can continue to play.
But what will Barber's asking price be? And will Dominik believe it's fair value for a senior citizen of a cornerback?
Joe thought the cool thing that Barber said, in what Joe took as a veiled shot at attention-starved Brett Favre, was that Barber explained he doesn't want to "create any drama."