Panthers Will Not Get Kellen Winslow
January 20th, 2011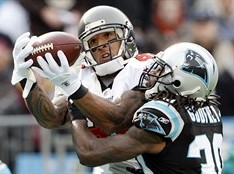 Two years ago when the Bucs acquired tight end Kellen Winslow, Joe was bummed.
Joe had nothing against Winslow at all. But given his unfortunate track record of missing games due to health concerns and Mark Dominik coughing up a second round pick for Winslow, Joe thought Dominik paid a terribly high price.
At the time, Joe thought the Bucs would have been better off sending a second round pick to Kansas City for future Hall of Famer Tony Gonzalez.
A few weeks later, the Dixie Chicks did just that: swapped a second round pick to the Chiefs for Gonzalez.
Joe's rationale was that Gonzalez, a rock with the Chiefs, would be more durable, more dependable and likely last longer than Winslow.
It appears Joe may be wrong as Gonazlez is mulling retirement after the Dixie Chicks suffered a beat down at the hands of the Packers two weeks ago.
Winslow, meanwhile, has been an absolute rock of stability with the Bucs and a valued asset within the Tampa Bay community.
Major props to him for that!
But now, it seems Panthers fans have their eyes on Winslow, claiming he can be had on the free agent market. Panthers fans, specifically Steve Reed at CarolinaGrowl.com, believe the Bucs will cut Winslow therefore he can be had by the Panthers.
On the surface it seems unlikely Tampa Bay would let Winslow, 27, walk after catching 66 passes for 730 yards and five touchdowns in 2010. However, he's scheduled to make a whopping $8.25 million next season, which is high for a tight end. If the Bucs happen to cut him for salary cap reasons look for the Panthers to swoop in. He has a strong history with Chudzinski.
Simply put, this is wishful thinking. The Bucs quite honestly are not parting ways with Winslow. Dominik has gone on record noting how important he believes a tight end to be. Unless Dominik has something up his sleeve, Winslow will be in a Bucs uniform for the 2011 season.
If there is a 2011 season.