Josh Johnson Chatter And Jim Harbaugh
January 8th, 2011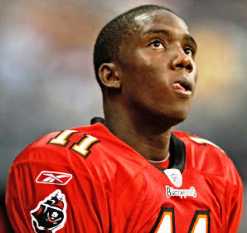 When Joe first heard last night that the 49ers hired irritable Jim Harbaugh as their new coach, Joe wondered aloud right away about Bucs "career backup" quarterback Josh Johnson.
Johnson was Harbaugh's starting quarterback at San Diego (not San Diego State) where the Toreros were undefeated. Much later when Joe got behind his keyboard after paying a visit/gawking to/at Courtney the Bartender, Joe noticed there were quite a few comments in unrelated threads about this very subject.
Joe's not sure the Bucs will want to part with Johnson very easily.He's already a secret weapon of sorts who offensive coordinator Greg Olson uses in all sorts of gimmick plays. Olson has even dabbled a few times with Johnson as a wide receiver.
Everything Joe has heard about Johnson is that he is a very intelligent guy. How much Harbaugh may want Johnson is obviously unknown but if Harbaugh wants him bad, let's just say Joe wouldn't want to play poker with rock star general manager Mark Dominik if Dominik is playing with a loaded deck.
Joe seems to recall Dominik pulling off perhaps the steal of the decade last year, pilfering a second round pick from the Bears.