Dominik Wants The Bucs In Pain This Afternoon
January 8th, 2011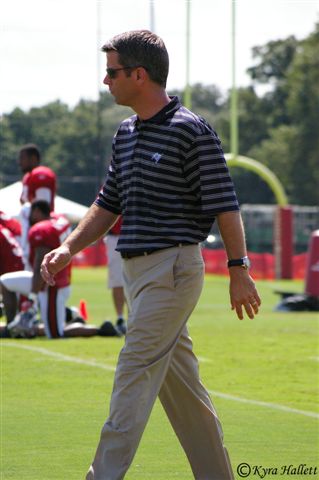 When football kicks off this afternoon in Seattle, with the loser Seahawks hosting the Saints, Mark Dominik wants his young Bucs team watching and agonizing.
He wants them bitter watching the two teams the Bucs pounded the past two Sundays fight it out to move on in the playoffs and gobble their share of postseason money.
Speaking Thursday to hosts Ron Diaz and former Bucs guard Ian Beckles on WDAE-AM 620, Dominik was asked by Beckles to give his take on what will keep the Bucs motivated and a step ahead of the competition now that they've tasted a little success and teams will be taking them very seriously in 2011.
Dominik didn't hesitate with a response.
"It's the fact that we didn't make the playoffs. They realize they're going to sit at home [today] and they're going to watch the New Orleans Saints travel to the Seattle Seahawks and say, 'We just beat those teams the last two weeks and we're not playing.' And I think that's going to be the thing that's really going to help motivate them." Dominik said. "We're certainly going to keep that throttle down. I know the coaches will, and I know Coach Morris will.
Talking more about staying hungry, Dominik went on to identify Brian Price and Kregg Lumpkin as two players he's excited about and who should be chomping at the bit to return for 2011. "There are still hungry players on this roster," Dominik said.
Joe, too, will be in pain watching this game knowing the Bucs could have made some noise in the playoffs. At this point, Joe's just hoping the Seahawks somehow bury the Saints and turn the NFL upside down by winning the NFC.