Josh Freeman Will Play In A NFC Title Game
January 20th, 2011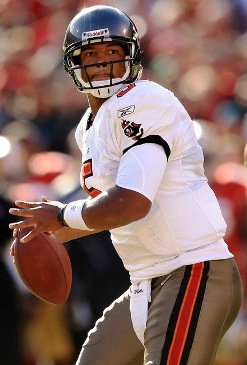 Most Bucs fans, even those still with a blind rage against Bucs coach Raheem Morris, have warmed to Bucs quarterback Josh Freeman.
The way Freeman only tossed six interceptions while leading the Bucs to many last-minute wins and a race-to-10 was impressive.
But maybe not as impressive as what he is projected to be.
Jason Lisk of Joe's proud Big Lead Sports Network partner, TheBigLead.com, decided to go all baseball stat geek on Freeman to try to gauge whether he is a good quarterback.
After number crunching quarterbacks in their second year as a starter, Freeman's totals, manufactured in Lisk's contrived, convoluted calculations (which bored Joe so much that Joe longed for the days he once covered zoning board meetings), are better than the following quarterbacks:
Michael Vick, Jay Cutler, Brett Favre, Kerry Collins, Joe Flacco, Boomer Esiason, Peyton Manning, Byron Leftwich, Bernie Kosar and John Elway.
All but one of those quarterbacks led their teams to a conference championship game. Of course three of those quarterbacks, Favre, Manning and Elway would go on to win Super Bowl rings.
So going by the spreadsheets, Freeman will lead the Bucs to a conference championship game someday, and perhaps beyond.