Charges Against Mike Williams Dropped
January 14th, 2011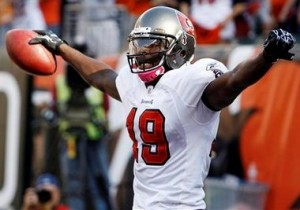 In what Joe can only describe as someone in the higher reaches of the Hillsborough County State's Attorney office being overcome with common sense, charges against Bucs wide receiver Mike Williams have been dropped, so reports video star Anwar Richardson of the Tampa Tribune, Twittering on the TBO Bucs Twitter feed.
The Hillsborough County State Attorney's Office will not pursue charges against Bucs WR Mike Williams.
As regular readers of Joe may know, just yesterday Joe predicted that the charges against Williams would be waived.
As Joe stated before, this smelled to high heaven all along of a blatant case of DWB by some gung-ho sheriff's deputy trying to make a name for himself in an attempt to protect residents from threats both foreign and domestic.
It's also clear to Joe that Williams' whizz quiz came back perfectly clean, as Williams was adamant it would, otherwise, the charges would have stuck.
Joe doesn't think it's out of line for the officer in question to issue a public apology and perhaps undergo some form of sensitivity counseling to stop this needless and senseless profiling tactic.
UPDATE: Richardson has further details of the decision by the Hillsborough County State Attorney's office to dismiss the DUI charges against Williams posted on TBO.com.
"We just got the results back from the urine analysis and that was all clean, so (we made the decision) based on him blowing below the legal limit," Cox said. "There is also a video at the scene when he got arrested, and when we looked at it in totality, based on the blow and the road-side camera, then the results we got back showing there was nothing else in his system, we felt like we couldn't go forward."
This is outrageous to Joe! If, in the video, authorities could tell no sense of impairment, then why exactly was Williams pinched and dragged to a jail like a common thug?
This is simply a miscarriage of justice and if the deputy in question is not pulled off the streets, he simply must undergo additional training. How many other innocents has this same officer stained and harassed?