Barrett Ruud's 2010 Grade: "A-minus"
January 26th, 2011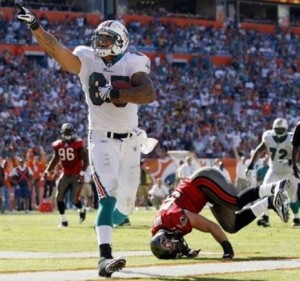 Fielding a call from a Bucs fan Tuesday, Pat Kirwan and Tim Ryan, co-hosts of "Movin' the Chains" heard exclusively on Sirius NFL Radio, came across as the co-chairmen of the Barrett Ruud fan club.
The caller suggested that the Bucs greatest need this offseason is to acquire, whether by trade, free agency (once the CBA is signed) or by draft, a middle linebacker, and the Bucs should let Ruud walk away.
Kirwan and Ryan reacted as if they were just served room temperature beer.
Ryan quickly interrupted the caller before the poor fellow had a chance to finish a sentence, extorting, "No… no… no… " before telling the caller the Bucs had far greater needs than replacing Ruud.
"Who is going to be the quarterback of your defense then? Who is going to call the plays on defense?" Ryan asked.
When the caller attempted to explain to Ryan that Ruud too often got run over by lesser running backs, Ryan would have none of it.
Kirwan added, "Barrett Ruud is not going to be Brian Urlacher in the Tampa-2. He's not going to be Ray Lewis. He never will be. If I had to grade him on his play this year, I'd give him an A-minus."
Now Joe has stated over and over he's trying to keep an open mind about Ruud and basically Joe has come to two points about this subject:
Kirwan, as many have stated, claims that Ruud is only playing the way Bucs coach Raheem Morris is asking him to play. If that is the case, and the Bucs' run defense in the middle is so soft, would it not be fair to suggest that either Morris is misusing Ruud or that Ruud is playing a glorified safety position and not middle linebacker?
If Ruud is nothing more than a glorified safety, than the public perception of his play would greatly change if his position was listed as "safety" and not "middle linebacker."
Now Joe understands that, in theory, in the Tampa-2 defense a middle linebacker is not supposed to be the stereotypical run-stuffing, bone-rattling, teeth-jarring linebacker, that such an honor is usually given to the weakside linebacker.
This worked perfectly when Derrick Brooks was on the field for the Bucs but this just in: Derrick Brooks is not coming through the Bucs' locker room door wearing his treasured double-nickel.
Again, Joe will write that when an old man of a cornerback and a rookie seventh round draft pick of a safety makes more splash plays in the box against the run than a guy who carries the mantle of middle linebacker, then there is a problem somewhere and it could be as simple as the defense being played, in truth, has no middle linebacker position.
Kirwan ended the conversation with the caller saying just the fact the Bucs will have Gerald McCoy and Brian Price healthy for next season that the Bucs' rush defense will significantly improve.