McCoy Talks About Staying Healthy
January 26th, 2011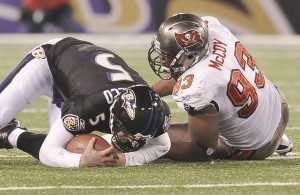 It seems Gerald McCoy hasn't taken off to San Diego yet for the final phase of his rehabilitation. The guy the Bucs hope will anchor the defensive line for the next 10 years was in Manatee County yesterday talking to young kids about healthy lifestyles.
The Bradenton Herald followed him there and delivered a write-up of his "Play 60" appearance, part of the NFL's effort to make you watch the same damn Falcons-on the school bus commercial get kids exercising.
McCoy said he became involved as soon as he was drafted.

"I have a passion for kids, so anything to do to help," he said. "Kids are our future, and the kids I just spoke to will be us in a few years. … If I would have known this type of thing when I was younger, I probably would have been healthier a lot sooner."
Last year on The Gerald McCoy Show on WDAE-AM 620, McCoy shared a story of how he was an extremely overweight kid whose father helped him focus on dedicating himself to becoming an elite athlete.
Joe wonders if any of the kids asked him what he thinks the Bucs will do about only having 10.5 sacks from all their defensive ends last season.