Roy Cummings Talks Ruud, Barber & Lockout
January 25th, 2011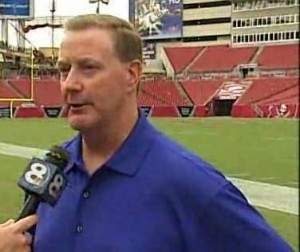 Joe often checks in with his beat writer brethren to talk Bucs football and kick around the latest buzz. Some of these guys are actually pretty cool. The esteemed Woody Cummings, of the The Tampa Tribune and TBO.com, was gracious enough to let Joe hit him up for a Q & A exclusively for JoeBucsFan.com readers. Below is Part II to enjoy. If you missed Part I, then you're outta luck then you can check it out here. 
Joe: Not trying to wade into the Barrett Ruud debate, but how much of  a need is it for Dominik to upgrade the linebacker corps? Or are Dominik and/or Rah content with Ruud, Hayes and Quincy Black?
Tampa Tribune beat writer Roy "Woody" Cummings: I don't think the Bucs feel as good about that trio as they did a year ago at this time, and the difference there is the play of  Hayes and Black. The Bucs were feeling pretty good about those two at the end of the 2009 season, but neither performed at a consistently high level in 2010. They're still young but I think the Bucs will definitely look for upgrades for at least one of them this year. As for Ruud, I'm a believer. No, he's not real physical, but  he always has the defense in the right play and that's his  first  priority.
As for his tackling, he's a second-level defender.  That's why most of his tackles are made 5-7 yards downfield. He starts almost every play there and his first duty following the snap is often to fall back a step in coverage. The Bucs don't ask their MLB  to attack the line of scrimmage or the quarterback. In fact, they never have. That's why I don't understand why everybody wants Ruud  to be something the Bucs don't want him to be. That's proven to be  the case, though. Guess fans just have to have  somebody to pick on. 
As for re-signing him, I don't think that will come down to money as much as many others do. Again, I cite the team's stated goals of drafting, developing and re-signing its own players as reason No. 1. The biggest factor that will play into whether the Bucs re-sign Ruud will be the availability of another MLB whose as good as he is. If they think they can find someone as good or better than Ruud either  in free agency, the draft or on their roster (Black?) they may let him go. If not, they've got to re-sign him.
Joe: Obviously, after the CBA expires the Bucs won't be able to work out at One Buc Palace. Listening to coaches on Sirius NFL Radio like  Pete Carroll, who are basically making plans for what players should do on their own time in the event of a work stoppage, are you hearing whispers of Freeman (or someone else) already organizing  workouts at a high school or some place for the players to get  together on their own away from One Buc Palace?
Cummings: We asked Josh about that the Monday after the season and his  response was, 'Don't worry, we'll make sure we're ready when the  season starts.' That tells me that Freeman will do whatever he has to do to get in daily workouts with his receivers, running backs and centers.
Joe: When the lockout/work stoppage happens, guys like Arrelious Benn will not be allowed to rehab at One Buc Palace. What are guys like Benn, Cody Grimm and the rest of the Bucs wounded supposed to do?
Cummings: The Bucs will have a rehab program laid out for them and they'll  just have to follow it. The program will probably include regular  visits for checkups to doctors and physicians that the team knows and trusts. It's going to be a strange time for those guys, but I can promise you that those who really care will find a way to stay  
in touch with the team's trainers and stay on top of their rehab.
Joe: It seems pretty clear now that Ronde Barber's return will come down to money. Can you envision a scenario in which the Bucs let him test the free agent market?
Cummings: No, I really don't, because I don't think Barber has any interest in playing anywhere else. And don't get all worked up about  Raheem saying Barber's coming back as his starting right corner. Barber is coming back under that pretense and that presumption will  be the basis of any contract negotiation that takes place. Look, Mark Dominik all but said the same thing the Monday after the season ended. No one is prepared to permanently move Ronde to slot corner just yet. He may wind up playing all his snaps there at some point in time, but someone is going to have to outplay him at RCB first.