Your Questions Answered
December 25th, 2010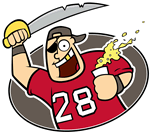 As promised, Joe is offering up Christmas morning answers to some select reader questions. Just for kicks, Joe solicited queries recently and here are responses to some:
Q. With Albert Haynesworth being on the outs with Lord Shanahan I think it would be worthwhile for the Bucs to float a fourth or third round pick to Washington to pick up Haynesworth's team friendly contract.  I know that he is a petulant child in a beast body with tons of baggage, but he has been embarrassed and could be looking to prove that he remains a force in a 4-3 defense.  I think the upgrade to our pass rush would far outweigh the diva attitude and with the structure of his contract cutting him would not be out of the question in case of a serious meltdown.  Am I crazy or does this make good football sense?   Thanks for your great Bucs coverage and hard work,
Chris Kaelin in Lakeland
A. Chris, first thanks for e-mailing and thanks as always for reading Joe. It seems you have answered your own questions. If a guy is going to get paid as much as Facestomper is and he still whines and complains and bitches and basically quit on his team, what's to suggest he won't do that with the Bucs for less cash? Facestomper was hardly a force with the Titans… until it came contract time. Dude has a bad history of being a malcontent. Remember his own teammates turned on him in Washington? That's pretty significant.
Also, look at what Mark Dominik has been able to do with the draft. Facestomper will only be a quick fix at best. Maybe Facestomper will be around three years if all the stars align properly. The way Dominik is drafting players, he could get a guy for much less cash in the third round and that guy will be with the Bucs for five years or more and likely get more production than Facestomper.
The Bucs are already loaded at tackle. GMC has shown he can play in the league. When healthy, Brian Price has shown he can be disruptive and Roy Miller isn't all that horrible if put in the proper scheme.
Joe sees where you are coming from, but just say no to Facestomper.
Q. Hello Joe, Im a big fan of you and your website, I read it daily like some people read the bible. Is this the offseason where Team Glazer will spend and trade to put this team over the top for next year and beyond? An if they did that who would you like to see them get rid of, aquire via trade or free agency. Will wait for a response. Thanks. GO BUCS.
Justin
A. Millions of people can quote the bible, so Joe hopes you're not that obsessed with JoeBucsFan.com. But that's very flattering nonetheless. As for Team Glazer's offseason plans, Joe thinks there's still two games left that will be judged to determine the team's next steps. If the Bucs lose the next two convincingly and finish 8-8, then the reality is they would have closed the season 1-5 with a ton of question marks and without beating a winning team. If they go 10-6 and make the playoffs, and some of the young studs make more big strides, then it's a slighly different ballgame. You get the idea.
As Joe's written countless times, if the salary cap returns next year, Team Glazer will be miles below the minimum spending level. So they'll have to spend a bunch of offseason dollars just to reach the bottom.
Joe thinks all the "lasting contender" stuff the organization talks about is a nice sound bite. But if this young team has a decent finish, Joe thinks Team Glazer would be nuts to not make moves toward a deep playoff run in 2011. … Too early to talk specifics, but it would sure be nice to get a great change of pace back in here (not Huggins) and upgrades at defensive end, among other spots.
Q. Joe, as my house nears foreclosure and I search for a better job, your site really is a great escape from the day. I'm glad I found it in the summer. This is really the only place I go for Bucs news now. I figure if you don't think I need to know about it, then it's probably bullsh*t anyway. 🙂  … I'm wondering how you manage the site. Are you making a living off this? Is this all fun for you? And does One Buc Place like this site? Peace.
Ricardo in South Tampa
A. Good luck keeping your house, Ricardo. You might want to get some legal help with that. And thanks for your loyal readership. As some readers know, "Joe"  is written by two professional sportswriters. It's definitely a daily effort, but a part-time one. This is a profitible business worth a lot of money, but does each Joe make minimum wage here? No. This is a labor of love that is fun nearly all the time. As for the folks at One Buc Place, Joe gets his share of feedback from over there — good, bad and ugly. Joe's gotten some of his best laughs hearing from players wives and family members. Like Joe politely says to everyone, if you don't like it here, go somewhere else.
Q. Joe, do you feel like a thief linking to other people's stories and videos? Pretty sad that you think that's interesting. You're pathetic.
Phil in Palm Harbor
A.  Thief? Really? Joe doesn't know a sportswriter in the world that doesn't want people to link to his or her work and comment on it. Joe produces plenty of his own material — you're obviously not reading regularly — but is committed to delivering Bucs fans team news from all sources. Sometimes Joe will use another's story to introduce his own take, as well. Aggregate sites, that link to and comment on published work, are commonplace in politics, sports, business, etc. So get over yourself.
Q.  I always read you slobbering on Twitter about Courtney the Bartender who you claim looks like Brooklyn Decker. Why don't you get her picture and share it with all of us you drunk?
— Jim in Brandon.
A. Jim,
What's not to love about Courtney the Bartender? The girl is hot, looks exactly like Brooklyn Decker, wears minimal clothing while working at a St. Pete chicken wing joint, professes her love for football and quenches Joe's thirst with cold beer without Joe having to ask for one. That's Joe's perfect woman.
But Joe respects women, no matter how much he may ogle over them. Joe's not about to get a compromising photo of Courtney the Bartender bending over in various poses pouring beer while she's working. That's just wrong.
If the mental picture of Brooklyn Decker wearing limited clothing serving you cold beer as if reading your mind, and talking football isn't enough, Joe doesn't know what to say.