Not Since 1968 …
December 25th, 2010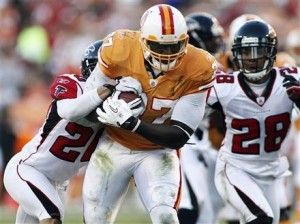 Seattle Times scribe Joshua Mayers has a piece today about the young Bucs and all sorts of glowing comments from Pete Carroll and multiple Seahawks.
And Mayers dropped a stat Joe had never seen before.
Apparently LeGarrette Blount and Mike Williams could become the first teammates to lead their rookies class in rushing and receiving since the free love days. 
Blount and Williams could be the first teammates since 1968 to lead the league in rookie rushing yards and rookie receiving yards.

"They're not playing like rookies, none of them are," said [safety Earl] Thomas, himself a first-year player.

"Me being young, I know how hard it is in the league with all the stuff they throw at you, but (their success) is a credit to the coaching over there and a credit to the players catching on."
With a strong finish to the season, both Blount and Williams could hit 1,000 yards. The road is easier for Williams, who has played a full season and has 888 yards. Blount's at 777 in just 11 games.
Now Joe was too curious and searched the Internet for the 1968 tandem that the Bucs rookies could match. Joe couldn't figure it out. Anybody know?
Update: 2:40 p.m. – OK. Joe sees the Bucs officially mentioned this factoid a couple of days ago, but they were referring to Bob Trumpy and Paul Robinson of Cincinnati in the AFL, not the NFL. This is what drove Joe nuts — searching for an answer in NFL stats.