Time To Play "Ask Joe"
December 24th, 2010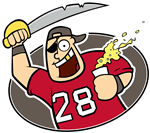 In case there's nothing under your tree, Joe's going to answer your questions for Christmas.
What a gift! 
Now is your time to hit Joe up with all kinds of questions. Bucs stuff, media stuff, questions about JoeBucsFan.com, Joe's obsession with cheerleaders, whatever. Joe's going to answer some select questions here on Christmas morning.
E-mail your query to joe@JoeBucsFan.com. You must put "Ask Joe" in the subject line, otherwise Joe will delete your e-mail thinking it's some sort of covert penile enlargement solicitation.  … Joe needs no such products.
Joe reserves the right to edit all e-mails to make you sure you don't sound stupid.