Slow Starts Have To End
December 12th, 2010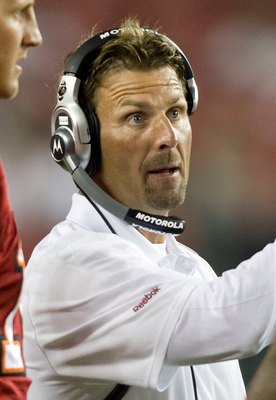 Over and over and over the Bucs have had trouble early in games.
They might be the best second-half defense in the league, but the ghost of Jim Bates has haunted them in many first halfs, including in today's 17-16 win.
It's all great when you get the "W," but Joe's looking for a playoff standard at this point, and the Bucs have to fix all this.
Joe nearly punched a hole in the wall watching Greg Olson get away from the running before it started. 
On the first series, Blount ran for six yards to open the game, then Freeman slipped dropping back to pass on second down before scrambling for three yards. And then the Bucs had an incomplete pass on 3rd-and-1. Punt.
On the Bucs' second series, the Bucs threw on first down for 12 yards. Then Blount punished Washington for 18 yards before a four-yard run on the next first down. Then the Bucs had a five-yard pass to set up a 3rd-and-1, where they then abandoned the run for a failed Mike Williams slant. Punt.
On series 3, Blount ran for three yards and the Bucs threw two incomplete passes. Punt.
That was the Bucs' first quarter on offense.
Of course, the player have to execute, but Joe's just not getting the playcalling. It's not playoff caliber.