Referees May Have Missed More Important Play
December 14th, 2010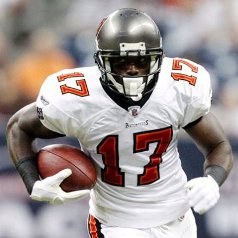 While many Bucs fans stress and kvetch over the alleged fifth down play — many of those hollering over it lost money due to a point spread; the Bucs win be damned — there may have been a far more grievous sin by the zebras.
Was a touchdown robbed from Arrelious Benn?
It was early in the fourth quarter and the Bucs trailed by a mere point, 10-9. Bucs quarterback Josh Freeman connected with Benn for a 43-yard completion down the middle that with the naked eye Joe thought Benn scored on.
But no. The zebras said Benn was down at the one. Next play, Freeman fumbles into the end zone and the Redskins recover.
Unlike the phantom (?) fifth down play, this took points off the board for the Bucs. Yet this play seems to be swept under the rug by Bucs fans (gamblers?) and much of the focus of ire is on the alleged fifth down play.
Right-thinking Tom Balog of the Sarasota Herald-Tribune did not lose sight of the Benn catch. He wondered aloud if Raheem Morris should have challenged that play. Morris did not.
Benn may not have been touched down by Redskins safety Kareem Moore as his momentum took him into the end zone. And if the replay booth took a second look at the play, the Buccaneers may have been awarded a touchdown, a touchdown they otherwise would not get, as it turned out.

"I certainly thought about challenging it," Morris said. "I'm on the 1 yard-line, I want to go score. I couldn't get a good look at it from up top, not a good enough look to challenge it, to be worth it, until the next play."
Again, if Joe was going to nitpick plays by the zebras, Joe would shine a spotlight on Benn not being awarded a touchdown rather than a couple of used car salesmen with connections in The District working the chains for peanuts.