Josh Freeman Loves The NFC West
December 28th, 2010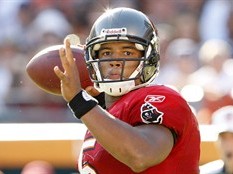 It will be a brutal feeling to know that a garbage NFC West team will be in the playoffs — have a home game no less! — if the Bucs somehow miss the postseason.
Watching St. Louis, or worse, Seattle hosting a playoff game will be enough for Joe to swear off a beer for a few hours.
Joe hopes somehow the Bucs can play the NFC West next year, though Joe's pretty sure that won't happen. Why play the NFC West again? Because Josh Freeman owns that division.
Consider the numbers Freeman has put up against NFC West foes:
In his five career games against NFC West teams, Josh Freeman has 11 touchdowns and one interception. That one interception came last year on the road against Seattle where Freeman threw for two touchdowns.
So yes, if there's any way the Bucs can somehow squeeze an NFC West team onto the schedule next year, Joe's reaction is the more the merrier.