It's OK To Use "Must Win" This Week
December 8th, 2010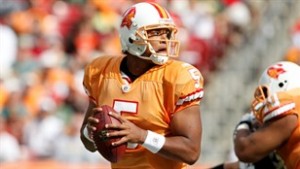 The playoffs are very much on the minds of Bucs fans and so too are the Bucs playoff chances on the minds of noted Bucs supporters Adam Schein and Rich Gannon.
While broadcasting their superior show "The Blitz," heard exclusively on Sirius NFL Radio, the duo discussed the Bucs and the playoffs today.
Adam Schein: I don't think Tampa is by any stretch out of the playoff picture. They are on the outside looking in. The road will be difficult. Looking at all the games this weekend and all the scenarios, this is a big spot for the Tampa Bay Buccaneers this week Rich. The Giants have an interesting game with the Vikings. The Eagles have an interesting game with the Cowboys. Both games are on the road. Tampa is on the road with the Redskins. Rich, this is a must game for the Tampa Bay Buccaneers.

Rich Gannon: It's critical and you are right. Currently the Bucs are on the outside looking in. They cannot afford to wait until Jan. 2 and that game at New Orleans because that game will be critical for the Saints. They will have a lot to play for too. Tampa has to win this week.
Joe just cannot fathom the Bucs losing this week. Sure the Bucs are banged up physically. But the Redskins are an absolute trainwreck loaded with distractions. The Redskins wide receivers are nothing short of a joke so even with Aqib Talib, the Redskins receivers should not pose any thread to the Bucs.
If the Bucs drop this game, it's time to start pestering Joe's good friend Justin Pawlowski about the draft.