McCoy Talks About His "Rookie Mistake"
December 8th, 2010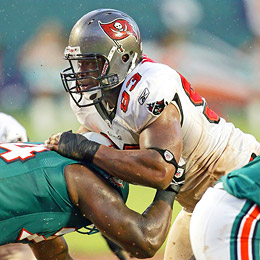 Ironically, a week after explaining that God is guiding his play along the defensive line, Gerald McCoy gave a Falcons player the business and drew a criticial personal foul that lead to Atlanta's second touchdown Sunday.
During The Gerald McCoy Show last night on WDAE-AM 620, McCoy explained that he just lost control.
"Atlanta's not my favorite team right now. You know, they kind of go under my skin a little bit," McCoy said. "It's a high-energy, high-emotion game, you know you take things the wrong way sometimes instead of keeping your cool.

"Rookie mistake. That's what it was. The crazy thing about that is that I usually never lose my cool. I could get pushed around, chop blocked whatever, [and I keep my cool] it just happens. Rookie mistake.

"It was a little late [hit]. The ref even said he even saw it. But the second guy always gets called. I was the second guy."
More growing pains for the Bucs. Youth is catching up, as Dave Moore commented Sunday.
Joe can only hope all the little things hurting the Bucs are true growth moments and not the start of ugly habits.