"I'm A Big Fruit Guy."
December 22nd, 2010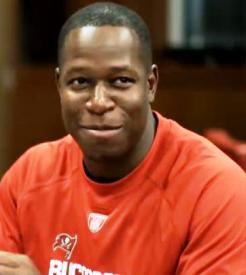 Yet another example of why the NFL Network is the superior cable channel in the free world comes today.
The NFL Network, from the work of NFL Films, has a segment called "The Season." In this episode the NFL Network has a day in the life of Raheem Morris.
Among the cool tidbits viewers will learn are Raheem's tastes in breakfast. Let's just say Raheem is not a Peter King kinda guy).
Special access is given behind the scenes to document what makes Raheem's mind tick and his daily 17-hour routine at One Buc Palace.
Joe has made no secret of his thoughts on Out House Networks raping local football fans of their hard-earned dollars but slapping them in the face by denying them the NFL Network.
Joe has nothing whatsoever against the media people who work there — Joe sincerely, truly thinks they are fine people, all — but Joe has significant moral and ethical issues with the suits there and how they con innocent, unknowing local citizens.
Look, if you want to be a woman and know the weather every 10 minutes, want to be alerted to a new swing set in the Brandon city park and stay awake at night pondering the ever-important score of the Bartow-Robinson girls volleyball match, knock yourself out.
Until the suits at Out House Networks cease this abuse of local football fans and allow decent, right-thinking area residents to view the NFL Network, Joe will keep railing against this syndicate.
As always, real men have the NFL Network.
There is a constant item Joe noticed throughout this video. See if you can figure out what Joe is referring to. Joe will give readers a few hours to solve the riddle.