Frank Okam Talks To Joe
December 27th, 2010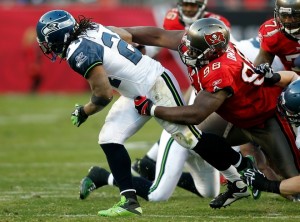 Big Frank Okam had a strong game at defensive tackle Sunday against Seattle when the Bucs hammered the Seahawks 38-15. Listed at 6-5, 350 pounds, Okam had six tackles including two behind the line of scrimmage. He was a rookie on Houston in 2008, and the Bucs picked him up last month and put him on the practice squad. Joe caught up with Okam after the game. Joe can attest that Okam is quite articulate and looks surprisingly fit for carrying all that weight.
JoeBucsFan.com: What was different for you today, personally? This was your second start and it was a rough week for the defense against the Lions last week.
Frank Okam: I think that was the main difference —  the second time being out there. Last week was the first time I've had a consistent amount of playing time since my rookie year. So it was just more of getting back in the groove of the game and getting confident. After the first week of tape and really seeing what they wanted me to do and their expectations out of the 3-technique, I tried to go out and do it.
Joe: What was the difference in the run defense as a whole today?
Okam: More focus. We were pretty embarrassed about what we put on tape the last couple of weeks, so it was important for us to go out there and stop the run so we could do some things and get them in one dimension. And go out there and blitz them.
Joe: How about all these young players stepping up?
Okam: Basically, I was always told that after your sixth game in the NFL you're not a rookie anymore. So you can't use that young rookie status [as an excuse]. At the end of the day you have to beat the guy in front of you. That's what it's pretty much all about. …The whole team holds you accountable for what you put on tape, and you don't want anything bad out there and let anyone down.
Joe: How much more do you think you can accomplish in your next start? After getting another pile of reps in practice this week?
Okam: That's the most important thing for me: practice and taking one practice at a time. I haven't played 3-technique since back in college. And just getting back in the groove at that and becoming a guy who can penetrate and be disruptive at that position is key for me. So practice is very important. Understanding game plans and where they want you to fit is very important. I'm just trying to make sure I'm progressing every day. Because if you're not, they'll find someone to replace you.
Joe: I've heard you're a monster in the weight room repping some big numbers. What are you benching these days?
Okam: Well, it's over 500. I haven't had to max out since college, so I don't know for sure. But I know the reps are over [500]. I feel good.