Mike Williams Speaks
December 27th, 2010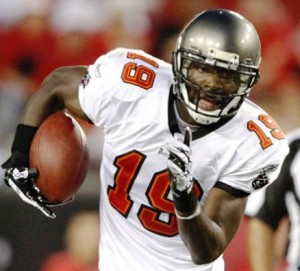 Bucs wide receiver Mike Williams appeared this morning with co-hosts Howard David and Marty Schottenheimer on "The Opening Drive," heard exclusively on Sirius NFL Radio, and discussed Sunday's win and how he approaches life in the NFL. Naturally Joe transcribed the chat.
Howard David: What was the mindset the team had for yesterday's game?
Mike Williams: Coach Raheem and we knew it was a must win situation. We had to put our best foot forward. If we lose, we had no shot at the playoffs. That was the message to the team: We had to win no matter what and we did that.
Marty Schottenheimer: How much of a difference is the NFL now than earlier in the year?
Williams: It's a lot more slower. I know when to get my reads and when to break my routes. Earlier on a blitz I had a go route. I cut it off to a five-step post and I don't know how I read it. In the first touchdown in the game yesterday I knew the crossing spaces, I knew it was a blitz, I knew I had a one-on-one. The game is just much slower for me now. I can read my reads.
David: You are the NFL's leading rookie receiver. Your numbers are impressive.
Williams: I try not to look at the stat sheet. Coach Morris always says to keep doing what you are doing.
David: You have a nice mesh with Josh Freeman. He is starting to look like a guy who is comfortable in his position and has command of the huddle.
Williams: Definitely. In the fourth quarter with the ball in his Josh's hands, we are guaranteed to go down and get points. When the pressure is on he always shows up.
David: Tell us about LeGarrette Blount's hurdles. What did you think when you saw that. Were you on the field?
Williams: I didn't see it because I was blocking a safety downfield. All of a sudden I see LeGarrette on my back. I thought, "He must have broke through." When I saw the replay, it was amazing. That guy can do some amazing things.
Schottenheimer: I am impressed with how you work to improve yourself. Is there any routine you have with Josh or your teammates or just yourself for personal study?
Williams: Me and Kellen Winslow, we work after practice. We talk about teams and their coverages and we catch 100 balls each after practice. We talk about and work on routes and other things. Me and Sammy Stroughter, after our film sessions we will stick around for 10 minutes to try to find something on the film that coach Yarber hasn't found
David: What were your expectations coming out of college?
Williams: To get this team in a position to win. For a team with three wins last year, I think I helped get this team get in a position to win. I think I've done that so far.
David: Are you surprised how far the team has come?
Williams: We expected to be better. Big things that are a surprise to others, we expected. When Rah said we were the best team in the NFC, we were behind him. We don't expect to be in losing situations.
Schottenheimer: It's impressive that a young player like has this attitude and the way you have gone about things. What do you see in your NFL future?
Williams: I want to improve every year, every day. I want to try to get better. I won on things I am not so good at. I want to block better downfield and I want to focus more on the ball and get my routes better. I have a connection with Josh. I want to learn the playbook and know it like he knows it. There's a lot I want to do in the offseason. We have already talked about it.
David: What are you going to do after you win Sunday?
Williams: Most likely go home and find out about the Giants and Packers afterwards. If we get a big win, I'd like to stay [in New Orleans] and see what happens, especially for the New Year.
David: What is one of the differences other than speed between the NFL and college?
Williams: The major difference between the NFL and college is you have a lot more chances to get hurt. By the grace of God you don't get hurt.