Earnest Graham Dismisses Severity Of Neck Injury
December 30th, 2010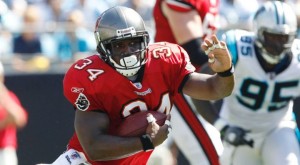 Fullback Earnest Graham was spotted on the sidelines of practice yesterday wearing an ominous neck brace resulting from an injury he received in the blowout win over the Seahawks.
Last night while fielding questions from fans on WDAE-AM 620, rock star general manager Mark Dominik confirmed Graham would not play Sunday at New Orleans.
Speaking to video star Anwar Richardson of the Tampa Tribune earlier today, Graham poo-poohed the wearing of the neck brace and vowed that the injury was minor.
However, Graham said he only has a "neck strain" and does not believe his injury is career threatening. Graham will not play against New Orleans on Sunday.

"The brace is more precautionary than anything," Graham said. "I'm happy because things could have been a lot worse."
A messed up neck in football is not something to fool around with. It could be very serious and/or lead to something dreadful. Joe hopes Graham isn't using some false sense of bravado in claiming the neck injury is minor.
Generally, people don't wear neck braces because they slept on the pillow the wrong way the night before.