Stylez White Thinking About Moving On
December 31st, 2010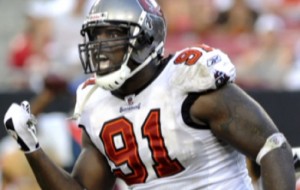 He has been dogged (more like a good ribbing) by his head coach since the summer. He was finally benched for a lack of production last week.
Given the fact Bucs rock star general manager Mark Dominik has already gone on record talking about a deep defensive end draft class as early as last year, the stars are not pointing favorably for defensive end Stylez White, so reports eye-RAH! Kaufman of the Tampa Tribune.
"I'm thinking about going out with a bang," said White, who doesn't have a contract for the 2011 season. "I won't be thinking about it before the game, but I'm a human being and it's been on my mind. I'd love to finish my career here, but if it doesn't happen, I won't have any regrets."
Stylez's season smells an awful lot of Chris Hovan's last season. Stylez, who has 4.5 sacks this season and none since November, is a veteran at a position where the Bucs sorely need an upgrade, much like Hovan was last year.
Unless the Bucs win along with the Bears and Redskins Sunday, Stylez may be in his final game as a Bucs defensive end.
That's OK with Stylez, suggests Kaufman. It appears, per Kaufman, that Stylez is acting like the Saints game may be his final Bucs game.