Donald Penn Has Already Called Out Saints
December 28th, 2010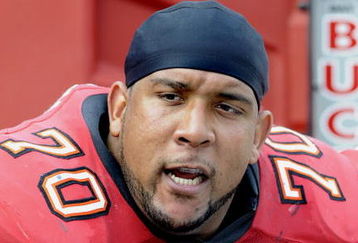 Well, it has come down to this: For the Bucs to have any shot at making the playoffs, they must (finally) beat a team with a winning record.
It's a feat the Bucs have not been able to pull off, which, though many Bucs fans were sent into orbit at the mere thought of it and tried to make excuses to how trivial it is, that nasty little fact is the singular reason why the Bucs are on the outside of the postseason looking in.
To finally break that ugly streak may mean a playoff berth. Not breaking the streak, no playoffs. Very simple.
It seems as if Donald Penn had a premonition. Tom Balog of the Sarasota Herald-Tribune noted that Penn has already done his part to prepare the Bucs for this critical showdown.
The Bucs left tackle called out the Saints after the chain-whipping the Bucs received from the Saints earlier this season.
Now, comes the rematch next Sunday, which will take place in the cage known as the New Orleans Superdome.

Two teams enter, only one, possibly, comes out with an NFC playoff berth.

"I told the Saints when we played them the first time, I said, 'We owe you one, and we're going to see you again, and it's going to be worth a lot,' " Penn said in the Buccaneers' victorious locker room after Tampa Bay's 38-15 blowout victory over the uninspired Seattle Seahawks. "I told a lot of them that. This is what it is."
The gauntlet has been thrown down. The match in the octagon has been set.
Either the Bucs beat a team with a winning record, or they start preparing for the draft.