Bucs Highlights Over The Redskins
December 12th, 2010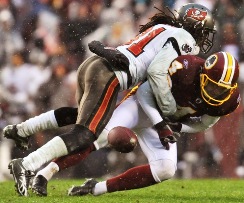 You want 'em? You got 'em. All the highlights from the Bucs nailbiting win over the Redskins, courtesy of the good people of the NFL Network (and Joe!).
Arrelious Benn hauls in a Josh Freeman pass for 64 yards.
Adam Hayward recovers the muffed kickoff to start the second half.
Freeman to Benn for 43 yards.
Down goes Donovan McNabb.
LeGarrette Blount rumbles for 18 yards.
Kellen Winslow puts the Bucs on top for good.
And the extra-point attempt to tie the game…
All of the game highlights rolled into one video.
Benn runs for 17 yards.
McNabb sacked again.
Raheem Morris and Josh Freeman speak in their postgame press conferences.