Breakout Game For Benn
December 12th, 2010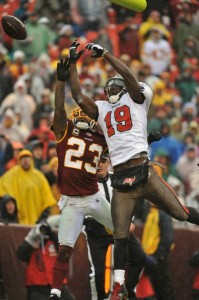 You could smell the big time breakout game coming from Arrelious Benn for a few weeks.
In addition to Benn maturing and making some plays, teams were obviously game planning to stop Kellen Winslow and Mike Williams, who seems to be stymied by the mythical rookie wall while Benn is smashing throught it. 
Benn had four catches today for a whopping 122 yards and a 17-yard run on and end around. 
Benn's living up to all the pre-draft hype about his yards-after-catch ability and physical game. He's now got 21 catches on the season.
He might be the Bucs' No. 1 receiver at this point.