Yahoo! Sports Down On Raheem
November 9th, 2010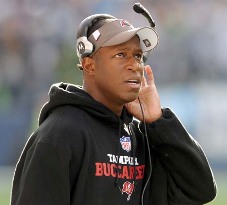 It was a bitter loss for the Bucs to take in many ways. Questionable spots by the zebras. Giving up way too many points in the first half. Coming inches short of a first-and-goal late with a chance to win.
It didn't take long for Charles Robinson of Yahoo! Sports to dump a load on Bucs coach Raheem Morris. In Robinson's "Winners and Losers" he lumps Raheem in with the latter group.
• Tampa Bay Buccaneers coach Raheem Morris
For a minute, the Bucs had you believing that maybe they were going to live up to Morris' proclamation that they were the best team in the NFC. But while this one could be counted as a moral victory, you have to wonder why Morris took the ball out of the hands of his playmaker, Josh Freeman, when the Bucs had it first-and-10 at the Atlanta 11. The Bucs ran it four times and turned it over on downs. Freeman should have gotten the opportunity to finish. He has earned it.
Well, if one must nitpick, it was Bucs offensive coordinator Greg Olson who called the play in question, not Raheem.
There were a lot of places one could lay blame on this loss. Raheem wouldn't be one of them.