Raheem Breaks Down Onside Kick Decision
November 9th, 2010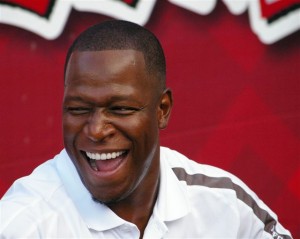 One reason Raheem Morris says locals "gotta have a buzz" about Bucs football is because of the exciting action the Bucs are delivering on the field.
Exhibit B on the list of excitement out of the Atlanta loss, per the head coach, was the onside kick the Bucs attempted trailing 27-21 near the end of the third quarter. Raheem detailed the play during The Raheem Morris Show last night on WDAE-AM 620.
"I went to [Rich Bisaccia] before we ran back the [Spurlock] kickoff [for a touchdown] and I told him, I said 'hey, if we score here, an offensive touchdown I want to kick an onside kick.' I said, 'Get away from me because I don't want to be caught talking to you when it's that time and I'm not telling anybody else on the football team.'  He was about it. He's an aggressive coach. He's an aggressive player. He's an aggressive guy. We both are," Morris said.

"And that's how we want to play around here. We want to play to win. We were on the road in a hostile environment, and we're going to take something from them. And that was our mentality."
Raheem went on to say it was Bisaccia and Raheem's predetermined call that the onsides kick would be the "middle dribble" with Connor Barth squibbing it straight ahead.
Raheem praised the execution, even though the ball hit Barth in the ass a few inches before the 10-yard mark and the Bucs were penalized and turned the ball over to the Falcons. Heyward gave huge props to Adam Heyward for violently sacrificing his body to clear the area for Barth's recovery.
Joe was all in favor of the call, even though it was a very risky move. The timing felt right.