"I Think The Town's Really Buzzin'"
November 8th, 2010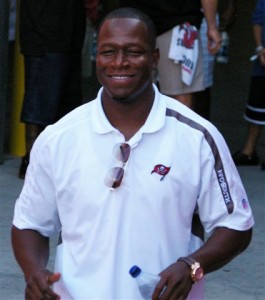 Joe's certain one can guage whether there's buzz about an NFL team based on increased ticket sales and/or increased ticket demand for said team.
Now Joe's not talking sellouts, just simply a significant bump in attendance or demand for tickets on the resale market (if a team is already sold out).
If there's real buzz, people buy a lot more tickets. Plain and simple.
Raiders and Lions fans, both in seriously economically challenged markets that rival Tampa Bay's plight, proved there is real buzz about their teams and sold out their home games Sunday, avoiding TV blackouts that had plagued those cities.
Today, Raheem Morris was asked about the buzz for the Buccaneers around the Bay area, and the head coach said he's quite sure the locals are embracing the young Bucs and their exciting brand of football.
"I think the town's really buzzin'. I think we're starting to get a little national attention because of me [talking], to be honest with you. I've seen me on TV more than anything. My mom called me and told me she sees me more on SportsCenter than she sees me in person," Morris said.

"I think the buzz is starting to happen from the young football team, the energy it brings, how we're winning, how we're calling games. You come to our game yesterday, you see a fleaflicker, you see an onside kick, you see a reverse, you see bonzai blitzes, you see all-out blitzes, all-out pressures, 60-yard touchdown runs, back-shoulder catches in the endzone, and a fourth-and-inches that we get stopped on, it's just an exciting brand of football that Tampa's trying to sell to people. And you gotta have a buzz about it."
Frankly, Joe won't believe there's much of a buzz about the Bucs until Joe sees more ticket sales.
Again, Joe's not talking sellouts, but Joe is talking about people actually using a much greater share of tickets already sold — 6,000 went unused for the Rams game — and an increase in ticket sales.
Official Bucs tickets-sold attendance for the last home game against St. Louis was 42,020. If that number doesn't jump to 48,000+ on Sunday against Carolina, the biggest Bucs home game in 23 months, don't ask Joe to believe "the town's really buzzin'."