The Opening Drive
November 15th, 2010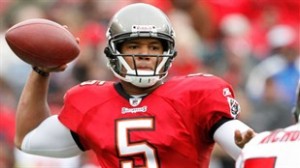 As Joe told a member of the Bucs press corps yesterday, there are only three channels he listens to on his Sirius satellite subscription: Sirius NFL Radio, Rivals Radio and of course, the King of All Media, Howard Stern.
Virtually all day long, Joe flips between those three channels. On Sirius NFL Radio, when Bob Papa and Peter King co-host "The Opening Drive," Joe's locked in.
Apparently, the Bucs have not been before Sunday. Rather than listening to The Opening Drive yesterday, Joe saw it. The Bucs opening drive that is.
For the first time all season, the Bucs scored a touchdown on their first possession, documents good guy Stephen Holder of the St. Pete Times.
All you need to know about the manner in which the Bucs have started games this season is that they did not have an opening-drive touchdown before Sunday. The best they managed was a field goal on their first possession against the Steelers in September — a drive that started at the Pittsburgh 31 after an interception by CB Aqib Talib. Otherwise, the Bucs have been painfully slow in starting games this season — until putting together a 47-yard touchdown drive Sunday for an early 7-0 lead, setting the tone for the rest of the day.
This is absolutely unbelievable to Joe. We are into the second half of the season and the Bucs are through nine games and Sunday was the first time all season the Bucs scored a touchdown to open the game?
This is simply stunning to Joe. Stunning. Have opposing defenses figured out Bucs offensive coordinator Greg Olson that well or is Olson not putting that much emphasis into the Bucs first drive of each game (which Joe cannot fathom is the case)?
Joe sits at his computer on this sunny Monday morning stunned by learning this, as if Joe just received a "Dear Joe" letter from Rachel Watson.