Bucs Opening Up Playbook
November 15th, 2010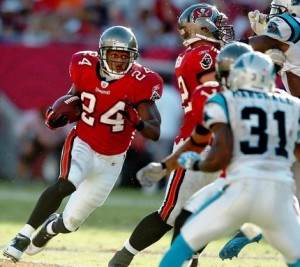 Since the Arizona game, Joe has noticed one thing: the Bucs have weapons.
Joe has noticed that because offensive coordinator Greg Olson has enabled a chapter or two of his playbook. As a result, the Bucs offense has jump-started, writes eye-RAH! Kaufman of the Tampa Tribune.
"He's doing a great job with his play-calling," tight end John Gilmore said about Olson following Sunday's 31-16 triumph against the Panthers. "There's still some things we need to tighten up, but we've got defenses off balance right now."After averaging 5.0 yards per offensive snap in their first six games, the Bucs have improved their productivity markedly in the past three weeks, averaging 6.8 yards as Olson opened up the attack.
In Joe's eyes this needs to continue. As Joe has written before, the Bucs defense is simply undependable and there's no way of fixing it now. Jack Lambert of Reggie White not walking through the front doors of One Buc Palace.
If the Bucs are to reach that "Race to 10" and perhaps a playoff berth, it's going to have to win shootouts. The Bucs clearly have the horses to do just that.