Sickest QB Sneak In Bucs History?
November 28th, 2010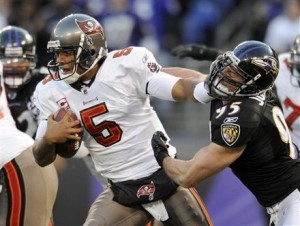 Joe hopes Greg Olson got a good look at Josh Freeman's bruising, Blountesque quarterback sneak for about five big yards on the Bucs' final drive today.
The guy is the toughest QB to drag down in the NFL. Has Freeman ever missed on a QB sneak?
Now Joe suspects Freeman called that himself, but Joe's quite certain Freeman didn't make the call forego the sneak and hand the ball off to LeGarrette Blount with the game on the line in Atlanta.
Yeah, Joe's still bitter about that and couldn't let it go after seeing Freeman's sick sneak today.