Grimm Reality
November 28th, 2010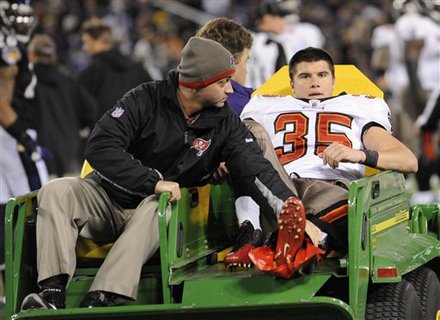 Forgetting for a moment how well Cody Grimm was playing and how key he was in the Bucs' resurgent run defense, Grimm's ugly broken ankle today means Sabby Piscitelli is back in the starting lineup as the Bucs try to march to the playoffs.
Oh, my.
Grimm surely is headed to injured reserve tomorrow.
Joe is impressed, however, by Piscitelli's ability to fake getting held, something he put on display late in today's 17-10 loss to the Ravens. Maybe he was held by Anquan Boldin, but it sure didn't look that way at all. Sabby's theatrics likely saved a touchdown on the play.
Joe hopes Sabby can keep finding creative ways to make an impact. Joe suspects he's not going to pull it off on talent and savvy.
See you next year, Grimm.
UPDATE: Good guy Stephen Holder of the St. Petersburg Times writes on Twitter than Grimm's injury has been clarified. It is a broken fibula, not a broken ankle.