From The Hole To The House
November 21st, 2010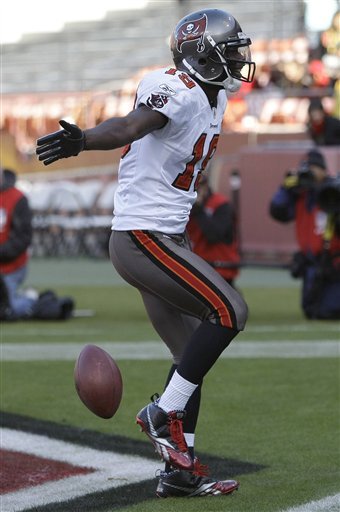 Mike Williams swerved all over the field — in a good way — on the biggest play of the game that led to the Bucs' second touchdown, which broke today's game open.
Showing great awareness and effort, Williams fought through two defenders to come back to the ball downfield and catch an underthrown Josh Freeman bomb for a 33 yard strike.
Four plays later, Williams would not be denied in the end zone, despite drawing a pass interference call on the play.
From the hole to the house in less than 72 hours. Not too shabby.
Joe hopes Williams is cleared in his DUI case and lives happily ever after.
Joe's very impressed that the kid shook off what likely was the worst experience of his life to stay focused and make a few big catches in the Bucs win.
He didn't let anyone down today. 
Joe wonders whether Williams' teammates will insist he get sloppy drunk on the plane ride home, or punish him by making him stay sober, wear a skirt and serve drinks to his teammates from the aisle.