Donald Penn A Secret Weapon
November 21st, 2010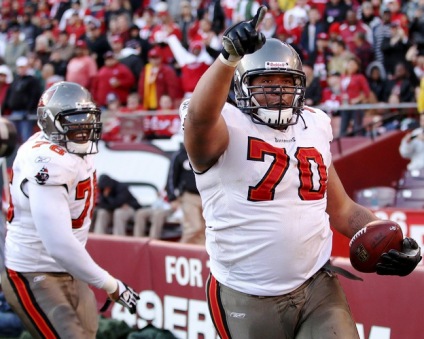 Want to know what was the most surprising thing about the Bucs win other than recording a shutout on the road, across the country?
That Donald Penn can catch better than Michael Clayton.
Who knew that when Bucs general manager Mark Dominik re-signed Penn he would become a secret weapon in the passing game?
Penn showed some nimble hands when he caught a Josh Freeman pass that pretty much put the game away in the second half, helping the Bucs to their seventh win of the season.
Apparently the play was a long-time coming, so said Bucs quarterback Josh Freeman on the Bucs radio network after the game.
"We had that play in since Week 1," Freeman said.
Freeman went on to say that the Bucs had worked on that play so often each week, that Penn himself finally lost his patience and in recent days was lobbying hard and heavy to have his number called.
"We have had that in the playbook since Week 1 and we've been running it in practice and running it in practice and running it in practice and Donald was finally saying, 'Man, you gotta call that play!" Freeman said. "There was no real pressure, just throw a strike. He has some hands for a big guy. He's an athlete. He used to play basketball. He's very coordinated.
"It was awesome to see him get the touchdown in his home state."
"I had a whole section [of family]," Penn said.
"That put the nail in it," Ronde Barber said, laughing at Penn's touchdown, which Barber himself set up with an interception. "Everybody stood up on the sideline because we knew it was coming. It was a K2 kind of a catch.
"Now we have to spend five hours in the air listening to him."
"Yeah, I was in [Freeman's] ear," Penn said of begging for the play. "During the timeout I said, 'Oh, it's time to call it. I will catch it.'
"I have the third-best hands on the team. K2 has the best," Penn added. "We play catch all the time before practice. This is just exciting man, just exciting."
So exciting for Penn that he launched the ball in the stands, hoping it landed in the section where his family sat at Candlestick Park.
That pass by Penn didn't make it there. It was one of the few plays that didn't work for the Bucs today.