Blount Keeps Punishing, Flying
November 21st, 2010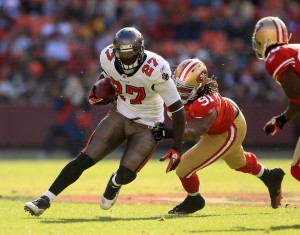 It's a safe conclusion at this point that the Bucs' past problems running the ball had little to do with the offensive line and everything to do with Cadillac Williams in a role beyond his ability.
LeGarrette Blount arrived and now the Bucs run the ball with attitude. Unfortunately, Blount went for -8 yards on a late carry and had some short kill-the-clock runs to finish with just 82 yards on 26 carries, but the guy is the freakin' straw that stirs the drink in the offense.
He's pounding, punishing, leaping — again — improvising. Unbelievable. He doesn't catch the ball or do much blocking, but it makes no difference. His presence has made Cadillac more effective, as well as Josh Freeman. The Bucs are a playoff contender because of Blount.
Jerremy Zuttah stepped in at left guard to replace Ted Larsen midway through the game, which was a bit odd. (Was Larsen hurt?) And perhaps this is the last Bucs fans have seen of Jeremy Trueblood.
Regardless, the Bucs have a deep O-line gaining confidence every week. Heck, they even got a hog scoring touchdowns.