A San Francisco Treat: A Shutout
November 21st, 2010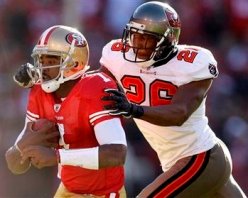 The way the Bucs defense had played all year, Joe was convinced the only way the Bucs would have a prayer of a playoff chance was to go Air Coryell, play pinball football, arena football, go crazy folks with the football.
But Joe never, ever dreamed the Bucs defense could shut out a college team much less than an NFL team. Rachel Watson waiting for Joe in his bedroom was a significant higher degree of a possibility.
But then the Bucs do just that: pitch a shutout. On the road no less! It was the Bucs first shutout on the road since blanking Philthydelphia in 2003.
Yes, it was Troy Smith. But the 49ers still had bruising back Frank Gore. Still had Michael Crabtree. As veteran NFL beat writer Ed Bouchette told Joe earlier this year, there are no flukes in the NFL.
Of all the things that the Bucs have pulled off this season, surprising season that it has been, this is easily the most spectacular, the most impressive, the most stunning.
It wasn't just a shutout. The Bucs, inept in pressuring the quarterback with a league-low eight sacks entering the game, put Smith on the ground not once, not twice but six times. Six!
Old man Ronde Barber came through yet again, picking off a pass (Smith's first in the NFL) and setting up Donald Penn's touchdown reception.
No, that last sentence is not a typo of any sort.
It was such a mind-blowing performance, Joe wonders if 49ers coach Mike Singletary will still have a job come midnight?
Joe is sitting at his computer stunned, speechless. Joe cannot believe what he just saw.
Maybe Joe should clean himself up. Rachel Watson just might be knocking on his door shortly.
It has been that much of an unbelievable day.