Spurlock's Catch Will Spark Controversy
October 11th, 2010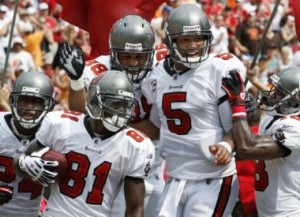 Micheal Spurlock's crazy catch late in Sunday's game came as a surprise to Joe because the zebras didn't overturn it.
To Joe, the fact Spurlock appeared to bobble the ball meant he didn't have possession. Thankfully, the zebras saw differently.
But this confused Don Banks of SI.com. A former Bucs beat writer, Banks now doesn't know what is a catch and what isn't a catch and believes Spurlock's phantom catch will be talked about from near and far and not in any way a Bucs fan wants the attention.
I'd love to know what Calvin Johnson thought of that 21-yard, game-deciding catch by Bucs receiver Michael Spurlock in the final seconds of Tampa Bay's 24-21 upset at Cincinnati. Really, NFL, that was a reception? Even though Spurlock clearly used the ground to help secure the ball as he landed, and the ball ended up moving in his arms as he came in contact with the ground anyway?

To repeat myself from Week 1, I'm not sure I know what a legal catch is any more. I was almost positive Spurlock's catch would be reversed by replay, because I thought the cameras clearly showed he failed to maintain possession once he hit the ground. The way I saw it, Johnson's nullified game-winning catch against the Bears in Week 1 was about three times more of a catch than Spurlock's upheld reception against the Bengals.

Why do I think we're in for another four of five days of raging debate about this latest call, and that the NFL's rules for the possession of a reception just got more confusing than ever?
Joe knows that the NFL has different rules for touchdown receptions than it does other receptions, and that simply shouldn't be. A catch is a catch no matter what area of the field a receiver is on.