Redemption
October 24th, 2010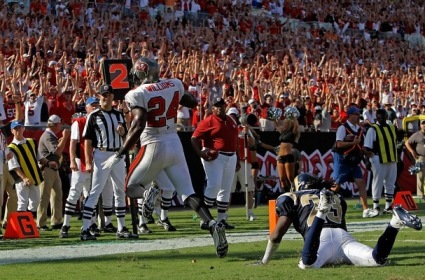 Joe has written several times since January that no matter how much he likes Cadillac Williams the man, Cadillac Williams the running back, is washed up.
After the first four games it became apparent to even Stevie Wonder that Williams' best days as a running back are over. Rushing for less than three yards a carry in the NFL and not being able to read holes or adjust a run on the fly (like Rams running back Steven Jackson did multiple times today) is not the way to keep a job as a starter.
But as Bucs offensive coordinator Greg Olson said last week, there's no one on the roster better.
The fans have even turned on Caddy. Just look at today's game live chat and see how people were freaking out. So amid all the negatively and criticism, Caddy responds not by running for 100 yards or rushing for three touchdowns, but for catching the winning touchdown from quarterback Josh Freeman.
Again, Joe thinks the world of Cadillac. Great story. Great guy. Great heart. But this isn't college football. This isn't a fan club. The NFL is a results-based business.
Cadillac got the results today. But will it be enough to keep him in the starting lineup?