Josh Freeman Could Be Tony Romo
October 26th, 2010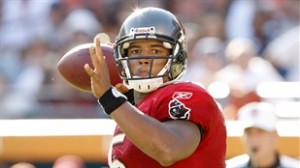 Last night Tony Romo, the pride of Eastern Illinois University, the same higher institute of learning that produced such luminaries as former Illinois governor Jim Edgar, Kevin Seitzer, Kevin Duckworth, Sean Payton, Mike Shanahan, Brad Childress, crazy John Malkovich and Joe, broke his collarbone.
Joe is chagrin that this would happen to any athlete, but if it would have to happen to anyone, it should be the starting quarterback at Dallass.
Sorry Tony.
It seems a running back failed to block a blitzing linebacker. Ross  Tucker of Sirius NFL Radio, twittering last night, suggested a blocking back is more important than a running back.
@RossTuckerNFL Fans don't like hearing about things like RBs picking up LBs in pass protection but that stuff can decide football games & even seasons. Ask Dallas.
This is the conundrum that Raheem Morris faces. He and offensive coordinator Greg Olson have hinted this is why LeGarrette Blount has not received much playing time because he has yet to master blocking.
While Joe gets this, Joe thinks the opposite is putting Freeman in physical danger. The Bucs have… no… running… attack with Cadillac Williams. As a result, the offense is woefully imbalanced and defenses don't need to load up eight in the box, and can kamikaze Freeman with attacks.
With Blount getting more carries, it will keep the defenses honest, and open up the Bucs' passing attack.