Coach Of The Year: Raheem Morris
October 25th, 2010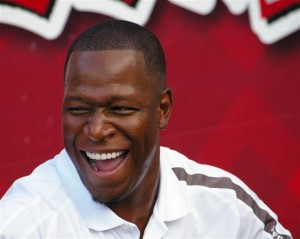 Bucs beat writer Anwar Richardson of the Tampa Tribune appeared on the too-Jewish sounding "King David Show" with Shaun King and Toby David heard on WQYK-AM 1010 this afternoon. Richardson talked Bucs and Raheem Morris' loud pronouncement that the Bucs are the Kings of the NFC.
Shaun King: I think there's no better coaching job in the NFL so far this year than Raheem Morris.
Anwar Richardson: Raheem is doing the best coaching job in the NFL. Name one Pro Bowl player on the Bucs. At least every team has someone that is really good at something. They don't have a teammate that is great at anything, He has infested this team with swagger and confidence. You talk about a guy turning around a bunch of castoffs. A lot of these players are guys off the street, nomads. They had three wins last year and they are at four wins now? It's a no-brainer.
King: As much as Raheem was criticized and ridiculed last year, all I am saying is give credit where credit is due. But they have a lot to work on.
Richardson: They are finding a way to win. It's not a pretty team and they are not winning with pizazz. They don't beat guys like, by, 17 or 21. They just hang around and hang around and in the fourth quarter they find a way to pull it out. The average margin of victory is not that high. Hey, it's all about the record. They are 4-2. Dallas is 1-4. Doesn't matter if they are glamorous wins or not. You can use all the excuses you want, they are 4-2. Dallas can use all the excuses it wants. They are 1-4.
Toby David: Was yesterday LeGarrette Blount's coming out party?
Richardson: I agree with Shaun, that Caddy remains the starter but the best running back is Blount. The team has come to grips with it and with this offensive line, you need LeGarrette Blount. This offensive line is not a dominant group but they do create creases. Blount is able to take that crease and make it an eight-yard gain. Young running backs do that well. They don't have the wear and tear on them. That's why running backs always fall off when they hit their 30s. Young running backs play like there's nothing to lose and everything to gain. You will see more of [Blount] but he won't be the starter. Raheem is tied to Cadillac as a starter. But you will see a lot more of Blount. … They are not as good as the top level teams. They are not as good as Pittsburgh. They are not as good as New Orleans but they may be good enough to win 10. They are in a race to 10.