It's Not The Offensive Line
October 26th, 2010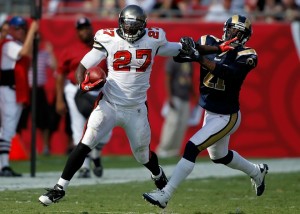 Like many of Joe's readers, Joe's good friend Justin Pawlowski of WDAE-AM 620, also known as "The Commissioner" who hosts the wildly popular "Blitz" on Saturday afternoons, was upset with the Bucs offensive line for anemic play.
But Justin has seen the light. After watching what LeGarrette Blount did Sunday against the Rams, Justin is now convinced the Bucs' rushing problem was Cadillac Williams, so he writes in his weekly "What I Learned" segment on his blog located on his station's website.
3. I learned (or at least had confirmed) that the Bucs lack of a running game was due to Cadillac Williams and not the offensive line.
Legarrette Blount finally got to prove what I have been saying about him since the draft. All he's needed was a chance. Why in the hell did it take so long for the head coach to realize this? I don't know. Hell, the head coach wouldn't even commit to Blount for next week. Blount proved that a good back can run with efficiency in this offense. Cadillac should be reduced to passing downs only, and Legarrette Blount should become the Bucs new identity on offense. Blount is the lone reason the Bucs even had a chance to win that game on Sunday. Here's hoping the coaching staff realizes what they have and USE HIM.
Joe understands that Raheem Morris is concerned about blitzes and that, in the long run, the Bucs' biggest goal this season is to keep Josh Freeman vertical.
With the Bucs in a playoff push — strange, but true — it's time to see if Freeman doesn't need training wheels any longer. Time to help him by having a more balanced offense.
In other words, rush Blount.