"It's A Lot Better Than It Was From Last Year"
October 18th, 2010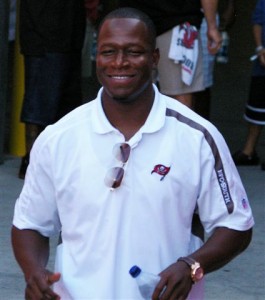 Pressured for answers to the Bucs' ineffective running game during his news conference today, Raheem Morris wouldn't cast a finger of blame and, in fact, he said the Bucs' rushing attack looks improved on film than it did in 2009.
"It's a lot better than it was from last year,"  Morris said of the running game. "The chances you do have to make plays, you're not making them. There are some positives with our team happening with the running game."
Morris went on to say the Bucs' running failures fall equally on the line and running backs.
Morris was very pleased with the Bucs' pass blocking and had specific praise for Jeremy Zuttah, Donald Penn and Davin Joseph. "At the end of the day, we didn't get our quarterback touched," Morris said.
Joe  has to wonder, if the running game looks better than it did last year, as Raheem said, then why did the Bucs bring back Cadillac Williams for 2010?