A New Blocking Icon?
October 18th, 2010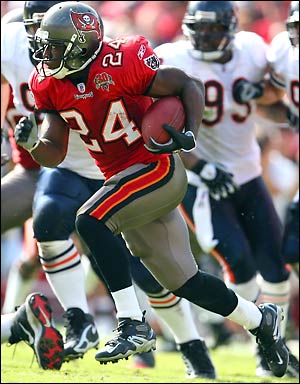 Asked today whether his loyalty to Cadillac Williams is shaping his judgment of Caddy's on-field performance, Raheem Morris gave a roundabout answer.
In short, Morris explained that his loyalty is to what Cadillac does outside of running the ball very well — namely keeping pressure off Josh Freeman.
"It's more about protecting No. 5 than anything else," Morris said, when explaining why Williams is getting the large majority of playing time.
None of this surprises Joe, who wrote several times previously that Cadillac is the man because the Bucs have little faith in LeGarrette Blount and Kareem Huggins' ability to pick up blitzes.
That's not going to change for a while, Joe believes. Freeman is the franchise, and teams will keep bringing the heat on him.
The Bucs once had a blocking icon who couldn't catch too well at wide receiver, and now it seems they might have a new blocking icon in place at running back, if only until the end of the season.