Garcia Connects With Rendrick Taylor
October 1st, 2010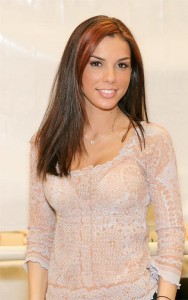 Yes, this Jeff Garcia video below is a shameless way to post a Carmella Garcia photo and still stay in Bucs mode.
Hanging on to the game in the UFL, playing in Omaha for Jeff Jagodzinski, Jeff Garcia leads his team to a fourth-quarter comeback against Duante Culpepper's team. Garcia makes the game-winning toss to Rendrick Taylor, the manbeast rookie fullback who was one of the Bucs' final cuts this year.
Funny how Garcia still hasn't figured out how to slide.