"All The Way Back To My Third-Grade Teacher"
October 1st, 2010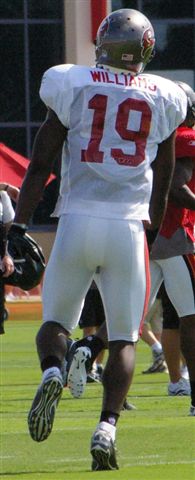 Much has been made of Mark Dominik doing extreme homework on wide receiver Mike Williams before the 2010 draft.
Williams was a man among boys (minus Dez Bryant) at the NFL Draft combine, but his non-criminal troubles at Syracuse had NFL teams leery. 
Dominik did his diligence and snatched Williams in the fourth round. So how far did Dominik go to check out Williams? The Bucs' top rookie explained on Wednesday night on WDAE-AM 620.
"They went all the way back to my third-grade teacher. She texted me like, "An NFL guy came to talk to me." They went all the way back as far as third grade," Williams said. "They did a lot of research."
Joe wonders what they could have asked the third-grade teacher, "Did Mike learn his multiplication tables quickly?" or "Did Mike ever wee-wee in class?" Perhaps Dominik had a lead on Williams shooting a spitball.
Whatever Dominik did to check out Williams, Joe wishes Bruce Allen had done the same thing on Tanard Jackson, another Syracuse guy. 
Williams went on to say he was focused on working his way up the roster before the season when he got a surprise phone call before training camp from receivers coach Eric Yarber, who Williams said told him he's be the starting X receiver on Day 1 of camp.
Williams went on to say he's close friend with Josh Freeman. He says the two play pool and cards all the time and Freeman can't beat him.