Freeman Keeps Proving He's The Franchise
October 10th, 2010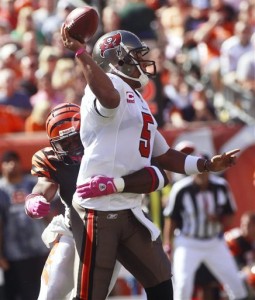 Now Josh Freeman didn't exactly look spectacular today.
He seemed to be misreading blitzes. He threw an ugly interception. He seemed a little unprepared for some of the hits he took. And he coughed up a critical fumble late, thankfully recovered by Keydrick Vincent for a five-yard gain.
But Freeman was pretty unfazed by the brutal pounding he took today from the Bengals, one that even knocked him out of the game. He lost his center. No problem.
Freeman bounced back for yet another fourth-quarter comeback using his legs and making great throws to Mike Williams and flashing a hefty set of balls to fire the dart to Micheal Spurlock in the flat with seconds left.
Every Bucs fan knows the offense rides on the back of Freeman. Surely, it's not going to be carried by the putrid running game and promising yet inexperienced receiving corps.
It might be time for Joe to buy that Freeman jersey.